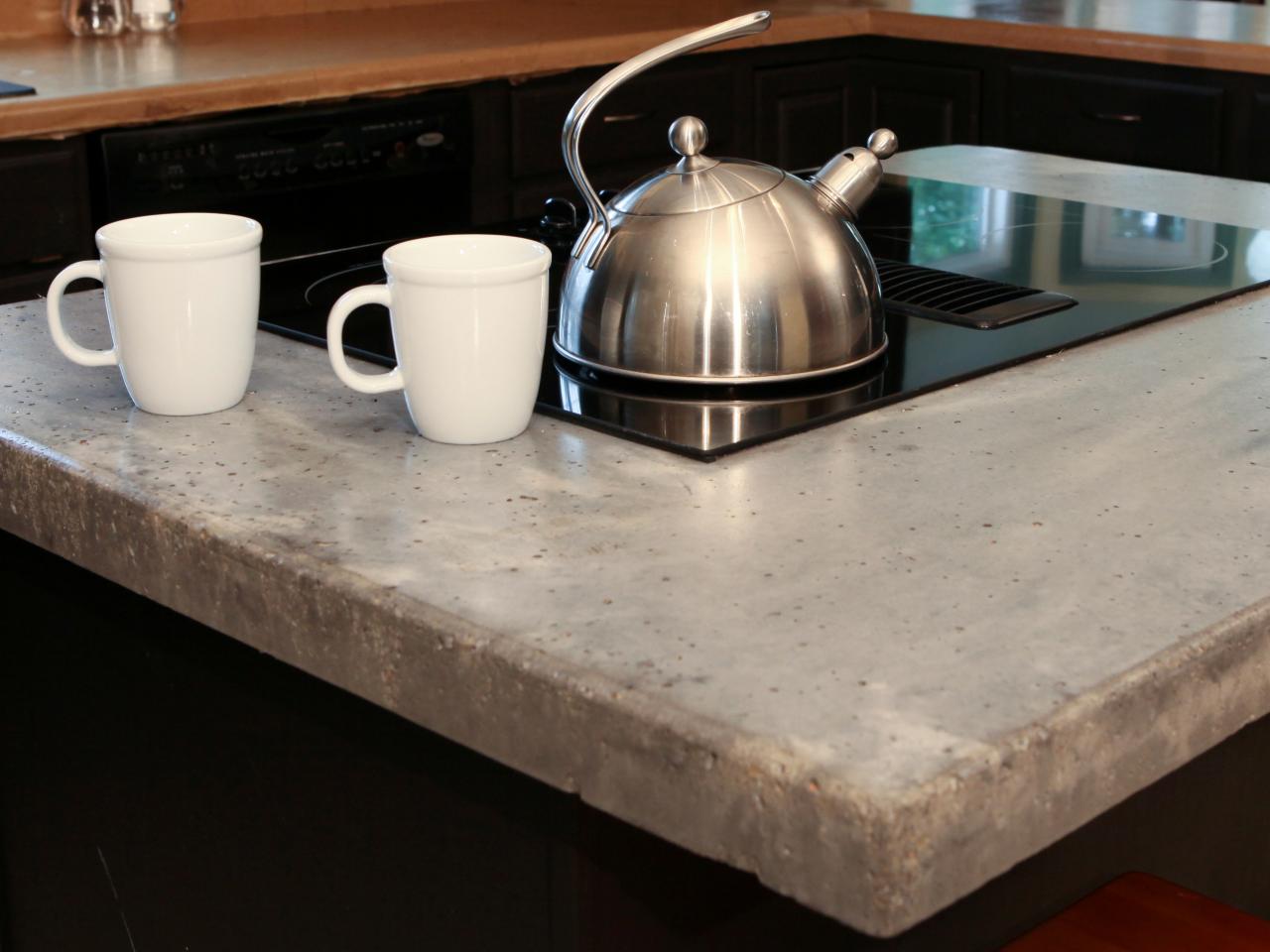 Concrete countertop is the cornerstone of any modern kitchen. It should fit into your interior design like a piece of a jigsaw puzzle. It should also reflect the level and enthusiasm of your activity in the kitchen.
If you are up for a basic and simple appearance that is neither fastidious nor pretentious, concrete countertops are among the most popular designer decisions of the twenty-first century.
Environmentally friendly concrete is so lasting, it could potentially serve you forever. What is more, it is one of the few recyclable materials. The reason for this is that concrete is basically rocks and sand, and it all holds together by cement. Other choices for kitchen countertops are usually marble and granite. Both of them are minable, so our planet holds only a limited supply of these materials. Imagine that every granite or marble countertop destroy planet Earth a little bit. This reason can be deciding for many people nowadays since people are becoming more and more ecologically aware.
One thing you have to consider before making a concrete countertop is that it can be quite heavy. So make sure that a base on which you will place it is strong enough to hold it. Better safe than sorry, as they like to say.
A regular concrete has a distinctive color. Some may say that it's beautiful, others may have a different opinion. Luckily for everyone, concrete is easily recolored. All you have to do is to add a hue of a color of your preference to the mix. Every countertop will have a unique color.
Here is what you need to do if you want to make your concrete countertop even more unique. During the phase when the mix is already poured into the form but is not hard yet, you can put small pieces of colored rock and glass or anything you can find on a beach there. Furthermore, you use pieces of wood to make it look more authentic. Try to imagine your concrete countertop as a pizza. You can easily let your fantasy loose when dealing with countertops. It will put the level of uniqueness over the top.
Concrete countertops can be especially interesting for food lovers and gourmets. You will pass this piece of art to the next generations like an old recipe of your old grandmother. Concrete countertop can express your deep personality, your character, and even your culinary preferences. Most of the other countertop materials can't give you that much freedom of self-expression.
Some of you can have a false idea that concrete can only be used on the streets for walking. But those people had probably never seen a concrete countertop. Concrete is the material that allows you to build a unique and beautiful countertop that will enhance the look of any kitchen and will allow your cooking process to flow freely. Concrete will look well in any kitchen, whether it's design is modern or old school. Anything goes when you deal with concrete.
But nothing is perfect, and nothing lasts forever, although concrete countertops come close to it. But even they have their own kryptonite. Usually, it is some highly staining substances like ketchup or wine. So don't forget to wipe your stains immediately (though I'm sure you would do it anyway). Lemon juice and anything similar can also harm concrete countertops. In order for your countertop to serve you better, there are a couple more tips. Concrete countertops should be waxed approximately every six months (even rarer than your car). You should also try to seal it every other year or so.
My personal favorite part about concrete countertops is that you can easily make it by yourself. And by "yourself" I mean you and your friends or your family. What can be better than to spend a few days building something that you will see almost every day? Building concrete countertops can be both fun and useful. And you will save yourself a lot of money by doing this. Usually, craft concrete countertops can cost you quite a bit. The reason is that it takes a lot of imagination and time. But if you do it by yourself, then you spend your own time and imagination (and they are free in that case).
But don't imagine that it will be easy. It is only similar to making pizza in a metaphorical state. And you have to admit, when you want a really good pizza, then you go to a nice restaurant, instead of baking it at home. There are many nuances to this process.
It all starts with the concrete mix. The mix is the heart, the shape and the content of your future concrete countertop. Proportions are extremely important because you don't want to make a layer cake instead of a pizza. And if you have an experience in constructing, then you probably can mix by yourself. In other cases, you should probably but a ready-made concrete mix for countertops.
The other part of the concrete countertop is the form. There is a variety of them. And you should take your time to choose the one to your liking. I personally recommend a z form since it should fit almost any style of any kitchen.
Now the good news is that Concrete Countertop Solutions is indeed providing solutions for any concrete countertop project that you have in mind. You can order a variety of concrete mixes, a wide range of forms and many more. But there is also something you get with it that you can not buy anywhere else. You get a free tutorial on how to put all these things together in order to get a concrete countertop of your dreams. So stop dreaming and start acting. It will all be delivered to your doorstep so you could begin building your first concrete countertop. And who knows, maybe it will not be the last.